Connected Accounts
Connected Accounts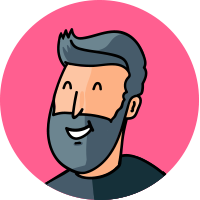 By Scott.Brownlee
updated about 1 year ago
Any account in Simplebooklet can connect to another account to collaborate on a booklet or collection. PRO accounts or higher can request access to any account's dashboard for collaboration. Free accounts can only give access to their dashboard to another account.
Free accounts cannot collaborate with each other.
Connecting Accounts
If you are a PRO plan or higher, you can request to connect to another account. To do this:
From your dashboard, tap the MANAGE button in the CONNECT ACCOUNTS menu.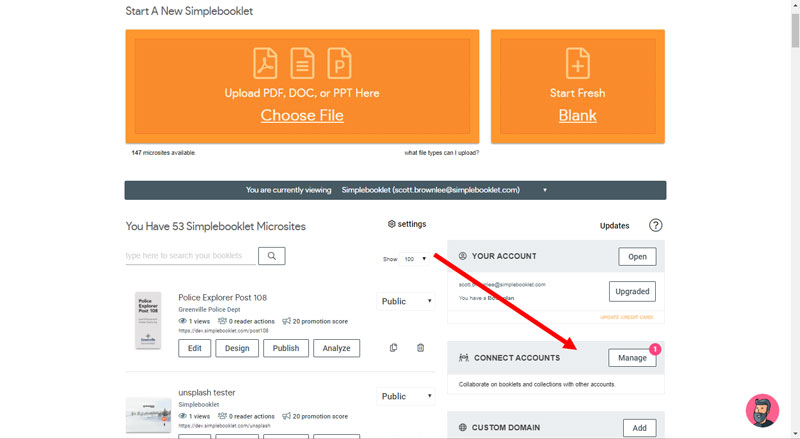 This will open the Connect Accounts menu. In the connect accounts menu, you have a number of options.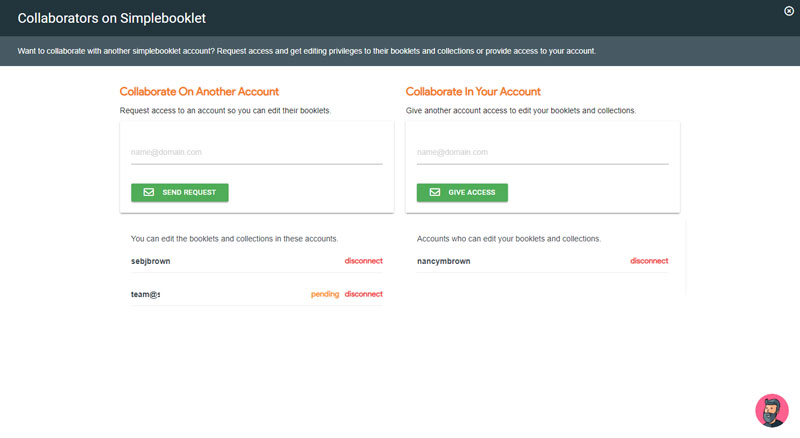 Send Request
Using the email of the other Simplebooklet account, you can request access to their dashboard. This will give you access to edit and manage their booklets and collections found on their dashboard.
Give Access
You can give another Simplebooklet account access to your booklets and collections on your dashboard. You cannot give access to a free account, only PRO accounts and higher. Using the email of the other Simplebooklet account, you will notify them that they can access your content to collaborate with you on it.
Each request requires the other Simplebooklet account to provide approval. In the area below the request forms, you will see pending and approved Simplebooklet accounts. You can also disconnect an account at anytime and they will no longer have access to your account booklets and collections to edit and manage.
When you send a request to collaborate, the other person will receive an email with instructions on what to do. They will also see on their dashboard a notification icon in the header and in the connect accounts menu.
When they open the connect accounts menu, they will see an approve beside your account email address. Tapping Approve will grant the access.
Collaborating
Once accounts are connected, you can access the content from your dashboard.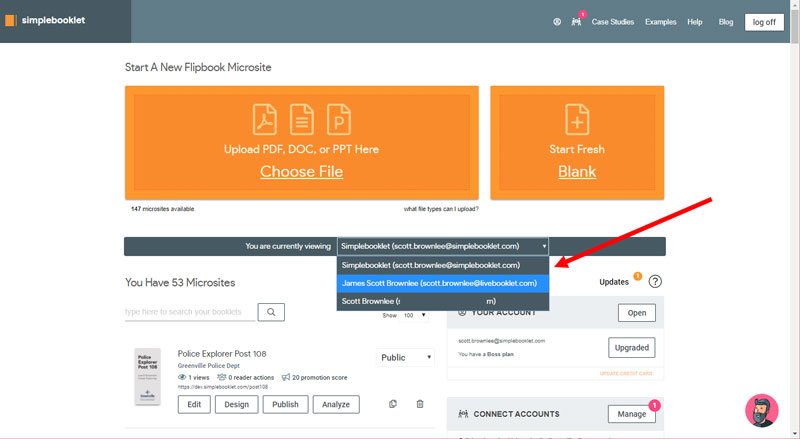 In the pulldown menu on your dashboard just above your Simplebooklet microsite library, you can select which account you want to collaborate on. Selecting the account will load all of their booklets into your dashboard, as well as their lead results and collections.
Did this answer your question?