Publish Interface
Publish Interface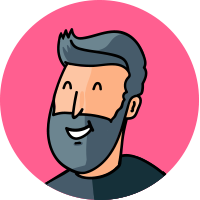 By Scott.Brownlee
updated about 1 year ago
Now that you've got your new marketing content microsite, its time to start publishing it everywhere. You'll want to post it to your social feeds, send it to customers in email, embed it on your main website (if you have one) and copy the custom web address and attach it to things like your print collateral and email signature.
Your PUBLISH tab contains all of the publishing tools to help you distribute your Simplebooklet microsite.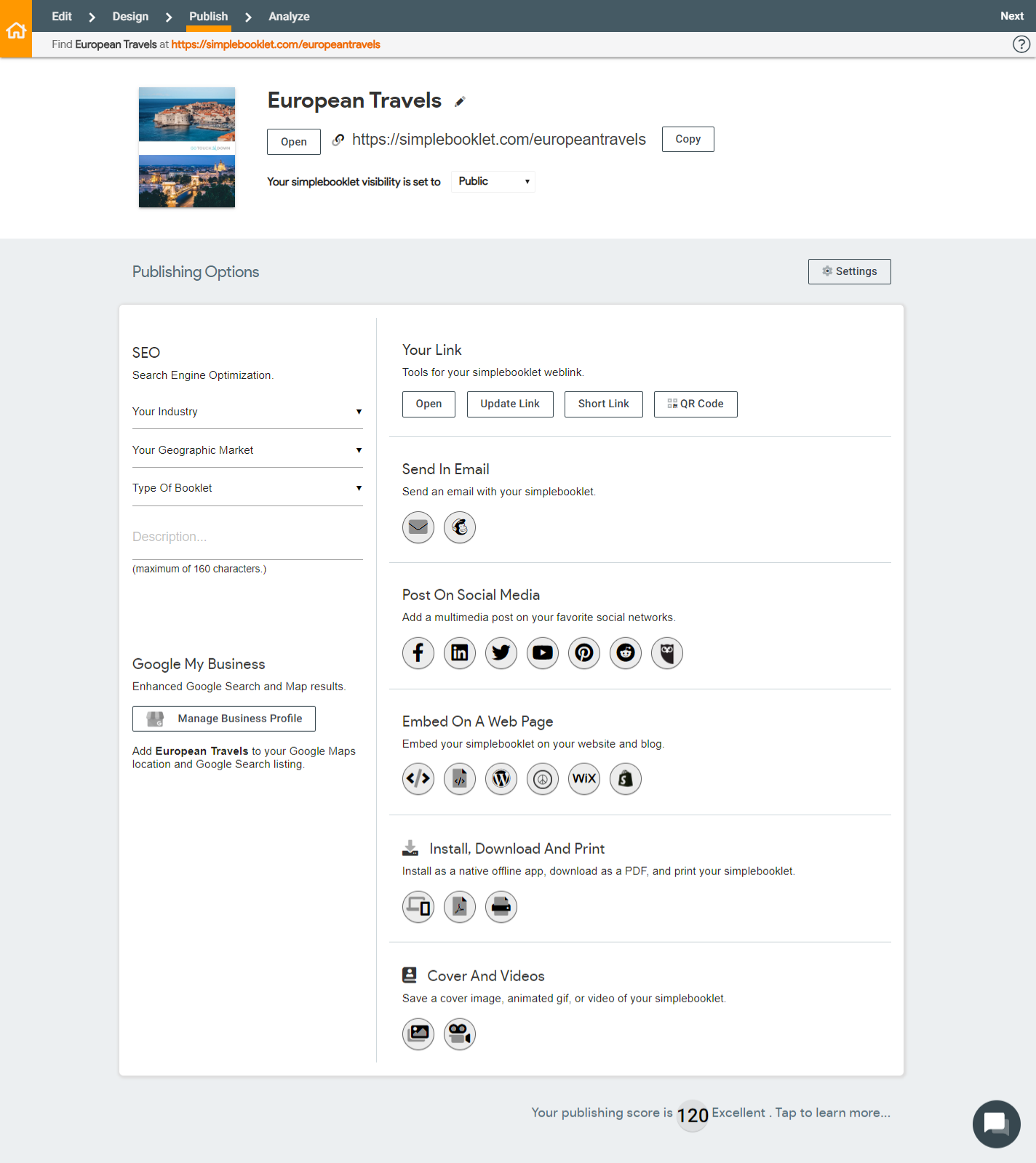 Settings:
You can choose to show or hide your Simplebooklet microsite from search engines. Just select the menu option and it will switch between showing and hiding. It may take a few days for search engines to de-index your microsite.
You can also flag your booklet if it has adult content. This is important if your content would be restricted by search engine indexing and violate our terms of service for content.
Your custom web address
Your Simplebooklet has a custom web address. You set this URL during the creation of your Simplebooklet microsite.
Update Link
You can change your web address by tapping the UPDATE LINK button. You can use your own custom domain, or transfer a web address you use on an older microsite to your new microsite.
QR Code
You can get a QR code for your Simplebooklet microsite. Tap the QR code button and then save the QR code to your device. Place that QR code on your print collateral or website to give a user easy access to your Simplebooklet on their mobile device.
Promotion Score
The promotion score is a measure of where you've shared your Simplebooklet microsite as well as the number of call to action buttons you've added to your microsite to encourage customer engagement (contact links, forms, videos, etc..) The higher the value, the better your results in getting business from your Simplebooklet microsite.
Go to the ANALYZE tab to get more details on improving your Promotion Score.
---
Publishing Your Simplebooklet:
SOCIAL NETWORKS
We've integrated with the major social networks to make it incredibly easy to distribute your Simplebooklet microsite on your feeds. You'll get a cover image, your title, author name, and description, all formatted to fit the posting requirements for each social network. Some will also offer the option to use a video or animated gif teaser of your Simplebooklet microsite to increase the clickthrough rate.

EMAIL
You can send a rich html email message to anyone directly from Simplebooklet. You can choose from three different formats for your email, then enter in the recipients email address and a custom message. You'll see what your email looks like in the column to the right. You can also animate the cover of your Simplebooklet so it previews the first three pages.
Send to multiple people by separating your recipient email addresses by a comma.
We also provide integrations to mailchimp to make it easy to add your Simplebooklet microsite to their email composer. Tap here for more information.
EMBED CODE
Your Simplebooklet can live on your website page with a special embed interface. You can configure the embed code to work best for your website.
You can copy the iframe embed code and add it to most websites through their code editor tool.
DOWNLOAD
You can download your Simplebooklet as a PDF, mobi, or epub file for reading offline. All of the interactive features in your Simplebooklet will not be available since these platforms don't support them. You can also make the download version of your booklet available on your microsite to your customers.
Simplebooklets can also be printed through your browser print function.
VIDEO AND IMAGE TEASERS
You can download for use in your own marketing and communications efforts video and animated gif images of your Simplebooklet. You'll be able to use these teasers to promote your Simplebooklet.
SEO
You can set meta data and structured data to improve your rankings in search results. This is very useful for building better click thrus to your booklet from search results.
Google My Business
You can place your menu or brochure into Google Maps and Search results if you have claimed your business on Google.
Did this answer your question?